She is Excited About Practicing Real Estate Because of The Unlimited Abilities To Help People as Well as Being Able To Control Her Own Destiny. Meet Dallas Area Real Estate Agent, Olga Kalyta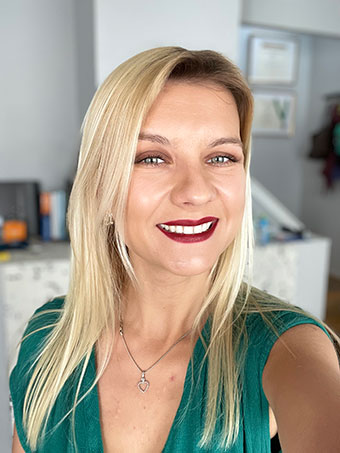 Q: How long have you been active in Real Estate? 
OK: I have recently celebrated my first year anniversary in real estate. 
Q: Do you specialize in certain types of properties? 
OK: Yes, I specialize in residential single family homes, but I plan to expand my area of expertise. I mostly work with buyers and investor buyers who plan to rent out the property after a purchase. 
Q: Can you share with our audience what Buyers & Sellers can expect when they work with you? 
OK: They can expect an absolute honesty and transparency. I am doing my best to be available to my clients as much as physically possible. Also, my clients better be ready for my extremely positive attitude and a sense of humor. 
Q: How do you help buyers compete in a tight market? 
OK: I do my research and educate my clients about the market trends in their specific area of interest. I come up with different strategies depending on clients' needs. I also make sure I always ask my broker for a second opinion to make sure we have the factual and unbiased plan. 
Q: What do you think are the ingredients that keep you as a top Realtor year after year? 
OK: The main "ingredient" is keeping up with everyday market changes be flexible and adjust to the environment. 
Q: If we interviewed all your past clients ... what is one common word that comes up when they describe working with you? 
OK: Proactive. 
Q: What's the greatest fear you've had to overcome to get where you are today? 
OK: The fear of change. Similarly, to most of the Realtors, real estate was not my primary career goal. My initial plan was to do a neuroscience research. It was a tough decision to let go after spending five years in school, two of which I worked as a research assistant. I got burned out and real estate felt like a breath of a fresh air. Overcoming my fear of change and unknown was one the best decisions I have made. 
Q: What are some of the challenges you feel women face today? 
OK: I would not speak for all women, but there is something I personally face pretty often. People (especially men) often misunderstand my politeness with flirting, forcing me to constantly control what and how I say things. I feel like many, especially attractive, women can relate to this and need to invest more efforts to be perceived seriously. 
Q: What advice would you give to young women who want to succeed in the workplace? 
OK: It doesn't hurt to ask a question or to ask for help. You will never hear "yes" if you don't ask. Overcoming the anxiety and fear of asking for something has helped me multiple times in both professional and personal life. 
Q: Can you tell us how you manage your work life balance? 
OK: I do not: my work feels more like a fun hobby than an actual job. I never feel overwhelmed picking up the phone on a Sunday morning or writing an offer at 1AM. I often become friends with my clients and meet for a coffee or a lunch just to chat. I do not treat my job as an obligation, but as something I am very motivated to do. 
Seven Things About Olga Kalyta

1. Among your friends, what are you best known for? 
Being giving. Lots of my friends are very careful when they say they need something because they know I will most likely do it for them. 
2. Who is your favorite author? 
Stephen King 
3. What's your favorite quote or saying? 
You can't find peace in something or someone unless you find it within yourself. 
4. What's your signature drink? 
Long double espresso (at least three a day) 
5. What would you sing at Karaoke night? 
Elvis Presley - Can't Help Falling In Love 
6. What would your perfect Saturday be like? 
Being silly and doing adventurous activities with my four year old son. 
7. Would you rather cook or order in? 
Definitely cook.