Dallas Real Estate Agent, Vida Samas Epitomizes Integrity, Energy, Hard Work, And Creative Service in Every Detail of Your Real Estate Transaction.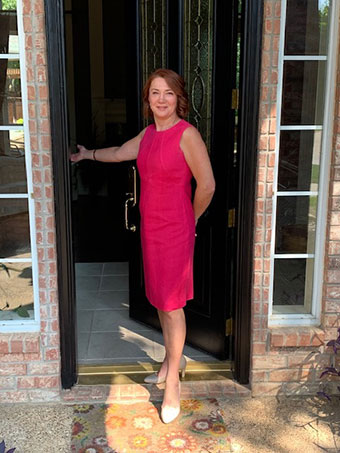 Q: Can you share with us what made you decide to have a career in Real Estate? 
VS: I was an economist in Europe, but after moving to United State I went back to collage and became a nurse. After my daughter and son were born, my husband was traveling for business, I was unable to work long hours, so I had to make some changes in my life. I wanted to have more flexibility with my work schedule and to be able to take care of my family. I took Real Estate classes and successfully got a Real Estate license in Wisconsin.        
Q: How long have you been active in Real Estate?
VS: I started my real estate career in 2014. At the time, my family was living in Wisconsin. We moved to Texas in 2016 and I continued to help my clients with all real estate transactions. I love to help people find their dream home.    
Q: Do you specialize in certain types of properties?
VS: I am focused on working with residential properties but love I am eager to expand into commercial Real Estate. 
Q: Can you share with our audience what Buyers & Sellers can expect when they work with you?
VS: Honesty, loyalty, passion, and integrity. Their needs and wishes always will be heard and executed. I never push my clients to make an urgent decision. 
Q: How do you help buyers compete in a tight market?
VS: I always educate my clients about a present situation in a real estate. Never make a false promise. I use my knowledge and experience to ensure my clients are getting the best deal for their future dream home.
Q: What are two things that separate you from other agents? 
VS: I have a lot more things than two that separates me from others. I can speak in Russian and Lithuanian. I work with clients overseas. I grew up in The Soviet Union, this taught a lot in my young life. I was an Economist in Eastern Europe – have knowledge about markets. I was a nurse – and thus have a passion and understanding of people.        
Q: Do you work with both buyers and sellers?
VS: Yes, I do work with sellers, buyers, investors, landlords and renters. 
Q: What do you think are the ingredients that keep you as a top Realtor year after year?
VS: I am always honest with my clients, and this is what my client like and always recommend from there experiences with my services. 
Q: If we interviewed all your past clients … what is one common word that comes up when they describe working with you?
VS: Knowledge and loyalty! 
Q: What's the greatest fear you've had to overcome to get where you are today? 
VS: At the beginning of my real estate carrier, I wasn't comfortable with my accent. But after a while I understood that people like my work style and positive results, and don't care about my language accent. 
Q: Can you tell our audience one of your most memorable moments your career?
VS: I prepared a house for sale and listed. After my hard work, with photos, interior design and house description and finally the top dollar offers, my seller changed their mind and moved back in the house.
The explanation was, that after reading about the house and looking house's pictures she fell in love with this house (I did too good with staging and description, that my client fell in love with the house). 

Q: What advice would you give to young women who want to succeed in the workplace?
VS: Always trust in yourself! Knowledge is a key to success, learn everyday something new! 
Q: After high school, where did you feel your career path would take you? 
VS: I wanted to be a medical doctor, and even finished preparation school. The last moment, when I took documents to the University I changed my mind and filled up to Economic faculty. 
Q: Can you tell us how you manage your work life balance?
VS: I have two calendars: one very big wall calendar, where I write my kids activities, my day's work plan and all appointments. Also, I have on my phone calendar with reminder. I keep a To-Do-list for the day – this helps me to stay on the track.     
Q: What would be the title of your autobiography?
VS: A new life begins with two suitcases. 
Five Things About Vida Samas

1. If you could share a meal with any 4 individuals, living or dead, who would they be? 
My daughter, two sons and husband. 
2. What's your favorite family tradition? 
Christmas Eve
3. What's your favorite international food?
Indian food
4. What's your favorite quote or saying? 
Nothing is impossible.
5. What was your favorite subject in school? 
Chemistry and mathematic