Egypt Sherrod, Starring as Co-Host Alongside Her Husband in The New HGTV Series "Married to Real Estate"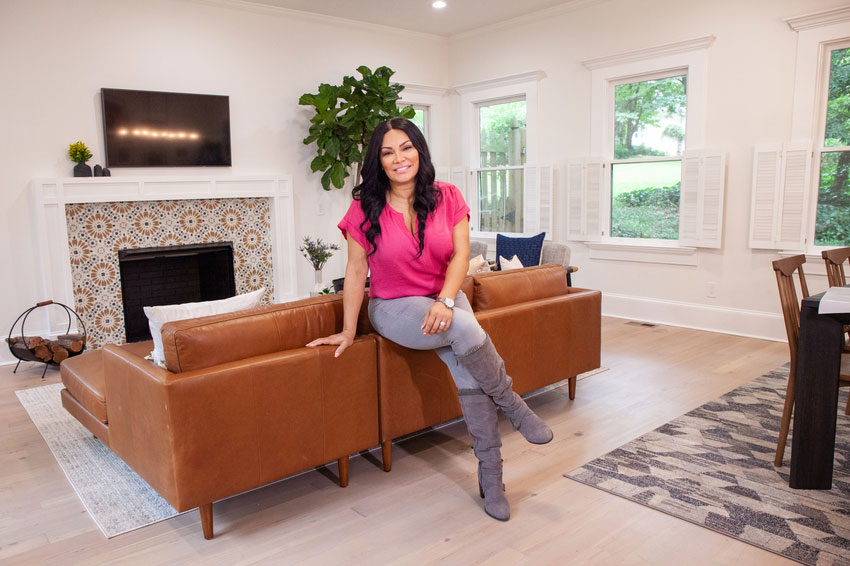 Q: Was real estate a pathway to design for you or the other way around?
ES: I was a real estate broker first and organically began to evolve into the design space. It started with architecture, then focusing on floor plan layout and functionality, now I love all things design. There is something so amazing about turning a plain-Jane room into a curated work of art.
Q: Whose room was the first you were asked to decorate?
ES: My first design projects were actually [for] my own flip homes, so I guess I asked myself! It truly came out of a necessity for increasing my profit margin and keeping costs low. I decided, "Hey, let me go ahead and give myself the job and really step up my game and be cost effective with design." Those homes would sell very fast with a lot of compliments from the buyers on my finishes and staging. So, that's when I recognized I had an eye for it.
Q: How did your experience at New York University Tisch School of the Arts impact your path to success?
ES: Actually, I only went to Tisch for a year. I was there with a scholarship and, unfortunately, they did not extend my scholarship past my freshman year. Much of my proving ground was at Temple University in Philadelphia, which is my hometown. Temple was an excellent school. I majored in broadcasting, which took me down the road of working as a radio personality and then further blossoming into a TV career. It was the perfect foundation for me. I had the love of real estate and design, but then I also had a background in broadcasting, and it brought me to where I am today: doing design and educating people about real estate, all on television.
Q: How did you make the leap from real estate and design to being an author and speaker?
ES: I think it all kind of came at the same time, to be honest with you. I was hosting the show Property Virgins and then went on to executive produce Flipping Virgins. I had goals to further brand myself in that space and cement myself as an authority. At that time, I took notice that those who were being booked for conferences and making six figures just from speaking engagements, also had a book as [their] calling card. Viewers would often e-mail me or DM me with questions about real estate, so it made sense to put it in a book as a one-stop shop. That's how everything evolved, and I'm often booked to speak on design panels, real estate conferences, and in the motivational space. I love it! I enjoy it and every day looks different.
To read more of our exclusive interview with Egypt Sherrod, click here.