Scarborough Affair's Floral Designs Are Known For Their European Garden Style Appeal With An Occasional Structural Twist. A conversation With Entrepreneur & Owner of Scarborough Affair, Laura Grant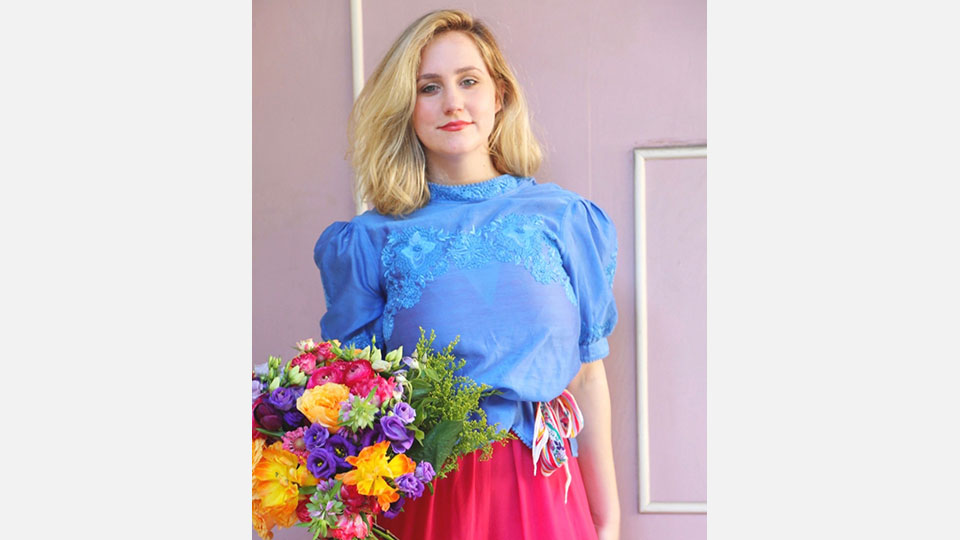 With a focus on seasonal color combinations and keepsake unique vase ware, you will find perfectly curated collections for all your gifting needs by season. Along with specialty deliveries Scarborough Affair offers bespoke wedding and event floral services, both local and destination, that are sure to be remembered by your guests for years to come!
Q: When did you realize you would pursue a career as a floral designer?
LG: I realized I would pursue a career as a floral designer on my first day of work in a small boutique floral shop in San Francisco. I knew absolutely nothing about floral design on that first day. Coming from a small farming town in Paso Robles, CA the only exposure one could get to floral design was your local grocer. Which to be honest, isn't that inspiring. So really the only flower names I knew before the job were tulips, sunflowers, and roses. But in the big city there is something called the flower market. Which by chance is what sparked the interest in the job at a flower shop in the first place. The San Francisco Flower Market was literally one block away from my dorm. It was my mom who actually suggested that I get a part time job there. I was studying Studio Art at the time. So, it made sense to me. I thought to myself "yeah ... that's kind of artsy." 
On my first day I was exposed to all of these flowers that I never even knew existed. So many colors, textures, and scents. Floral design was like everything I was learning in my art classes combined into one. Working with line, shape, color, value, form, texture, and space. It was perfect for me. But what I found really special was how people would light up just walking into the space. I found myself thinking" Why wouldn't I want to do this every day for the rest of my life?" And that's where my floral design journey began. 

Q: Did you know you would become an entrepreneur and start your own business?
LG: Ever since I can remember I was always dreaming of owning my own business. Which I can give partial credit to my Dad for. He is a winemaker; I grew up watching him grow other people's businesses and his own. The rest of the credit I'll give to myself. I was always told what a bossy little girl I was. Which now I can say with confidence was really just great leadership skills. 
Q: For those in our audience not familiar with Scarborough Affair, tell us about some of the events you are available for.
LG: Scarborough Affair operates out of a private studio in Dallas, TX. We offer exquisite luxury arrangements for delivery in Dallas and extraordinary wedding and event florals in Dallas and beyond. With a focus on unique color combinations and an artistic approach, our work is sure to leave a lasting impression. 
Q: How do you ensure that customers are happy with customized floral arrangements? 
LG: I spend a lot of time with brides and clients before their events. Ensuring that no bloom is out of place on the big day. This usually starts with an in person consultation where the client and I can review their bespoke mockup design and their customized proposal. Which includes color palettes, flower variety lists and a bounty of imagery ensuring that the client and I are both on the same page. For local deliveries we love to send customers a personalized photo of their order before it gets sent out for delivery.
Q: Tell us about the largest event you have ever prepared flower arrangements for?
LG: One of the largest weddings I booked while I was still living in San Francisco was originally supposed to take place in a beautiful cathedral near North Beach with 500 guests. The Bride was inspired by Royal British weddings. She had a keen eye for opulence and wanted everything to be jaw dropping, over the top and above all, romantic. We were a perfect match. But then Covid happened. The Bride and Groom had to change their date numerous times and finally when the space was available the restrictions became a little too confining for the family. So, they decided to change venues. Moving the wedding to Sacramento, CA. To a beautiful estate surrounded by vineyards. Thus, creating a destination - destination wedding for me. 
At this point I had already moved my business and myself to Dallas. But I decided to work with the family. All of the freelancers I had planned to hire previously were unable to work given the new date and location. So, it was just me. It was a huge undertaking that I did all on my own. And honestly, it was terrifying. All of the flowers had to be pre-ordered and shipped to the San Francisco Flower Market, picked up and driven from there all the way to sunny Sacramento. I processed all of the flowers out of a tiny AIRBNB cottage near the venue and designed all the arrangements in the small wine cellar on the property. I was told that the cellar would be air conditioned. But upon arrival I found that it would not go below 75 degrees. Thankfully, the flowers and I survived. And the event turned out beautifully, the bride was beyond thrilled. After this I realized that I could do just about anything big or small. 

Q: Were there moments in your career that were pivotal to getting where you are today?
LG: The most pivotal moments in my career were definitely taking the initiative to work and learn from some of the best in the business. It was a personal goal to learn as much as I could locally in San Francisco. Starting off small in neighborhood floral shops and working my way up to full service flower studios. I have traveled internationally to attend flower schools in London and in Italy. Learning from the likes of Katie Davis, Catherine Muller, and Kiana Underwood. These experiences were truly pivotal in my career. I learned so many insights, tips, and tricks of the business that truly helped me move forward and grow in this industry. 
Q: What is it about your job that most excites you?
LG: To me it all comes down to creating something out of nothing. And that is what excites me the most. And I get to do it every day. I get to create. Whether that be the big things like creating the brand, or the little things like designing a small boutonniere. To me they all need to tell a story. It's challenging, rewarding and oh so exciting when you get it right. 
Q: What's the greatest fear you've had to overcome to get where you are today? 
LG: I think fear itself. Thanks Roosevelt! But it's so true! It's really scary doing your own thing. Suddenly everything falls on you. And with me, I'm creating art. It's an extension of me. So, it's extra scary if it's not well received or fails. But you can't think about it too much. If you do, you won't create. I've just had to accept that I'm going to make mistakes. 
Q: What's one lesson you've learned in your career that you can share with our audience?
LG: You are not the boss. Your customer is. Floral designers exist to meet the needs of our clients and if you can't meet those needs your client will go somewhere else. 
Q: Which woman inspires you and why? 
LG: I find Annie Leibovitz extremely inspiring. I love her work and I really think she has influenced a lot of the art we see today. 
Q: After high school, where did you feel your career path would take you? 
LG: After high school I thought I would be involved in the fashion world. I loved photography and I loved styling my friends and taking their pictures. Which I feel like what I am doing now encompasses this as well. 
Five Things About Laura Grant
1. What's your favorite thing to do in your free time? 
We just bought a new house. So right now, I love to spend my free time gardening and decorating. I spend an obsessive amount of time creating "mood boards" for all of the rooms and watching DIY YouTube videos. 
2. Who is your favorite author? 
Malcolm Gladwell 
3. What's your favorite quote or saying? 
"Don't you know that only fools are satisfied?" - Billy Joel
4. If you unexpectedly won $10,000, what would you spend it on? 
I would definitely be spending it ALL on new wallpaper for our home!  
5. Are you a morning person or a night owl? 
I am a morning person for sure! Which is great for this business. Lots of early morning flower market trips. 
6. Favorite Dessert? 
Every birthday I get a Tres Leches Cake. Which has been my favorite since I had my first bite at 7 years old. BUT I am a sucker for cherry pie. 
7. Do you read reviews, or just go with your gut? 
100% I read the reviews. Unless it's super cute and draws me in. But even then ... I'll read them once I'm inside. Guilty, guilty, pleasure. 
8. What's your signature drink? 
Chai Tea
9. What was your favorite subject in school? 
I loved art and history the most. The two combined in college was great for me! It was like a history picture book.