She Wows Audiences With Her Contagious Smile & World- Class Hand of Magic! An Exclusive Interview With Las Vegas Magical Headliner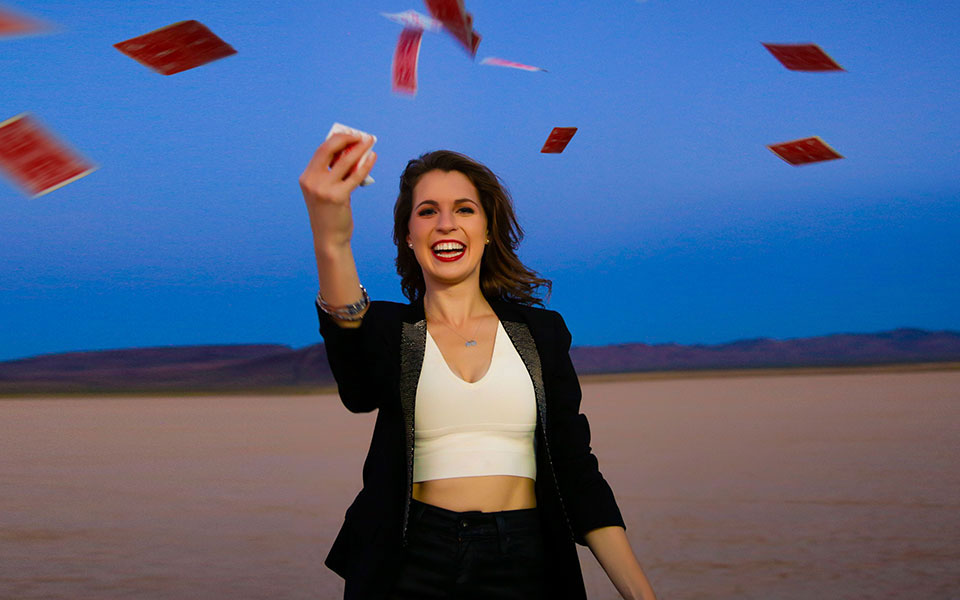 Q: You were first fascinated by magic at age ten. Can you share with our audience what captivated you about magic?
JK: My Uncle Steve gave me a book called The Royal Road To Card Magic as a 10th birthday present and I was endlessly intrigued. It's a sleight-of-hand card magic classic first published in 1948. I would spend hours sitting cross-legged on the green carpet of my childhood bedroom, keeping this magical, orange-bound book open with my knee as I held a deck of blue Bicycle playing cards in my hands, adjusting the positions of my fingers around the cards as I read the instructions. From the moment my uncle gifted me The Royal Road, I loved the process of learning and practicing these card magic techniques, then sharing the magic I learned with family and friends. My reasons for loving magic have evolved over time, but – at the beginning, as a kid – there was something especially exciting about learning magic secrets and being able to wow even the seemingly all-knowing grown-ups. Over the years, I realized that the real secret of magic is in genuine human connection. Connecting with people and sharing the experience of wonder that magic evokes is what keeps me captivated by magic.
Q: What did your family and friends think when you talked about magic at such an early age?
JK: I'm fortunate to have such awesome, supportive family and friends who encouraged my passion for magic. My mom and dad regularly drove me to the various events where I performed early on and they (along with my two younger sisters) were my first test audience when I was working on a new piece of magic. Around age 11, I joined a group called The Society of Young Magicians, the youth chapter of The Society of American Magicians. Then, a few years later, I attended Tannen's Magic Camp. So early on, through the magic community, I met great friends who were also magicians and we connected over our shared love of magic.
Q: Who was your mentor growing up and how do they remain important to you today?
JK: I'm really grateful to have had wonderful mentors in magic while I was growing up, who will always be so important to me. My first mentors in magic were my Uncle Steve, Albert Lasher, and Tom and Janet Verner. My Uncle Steve had studied magic for many years, so we would have a blast with our "magic jam sessions" whenever we'd meet up, talking about magic techniques and showing each other what we had each been working on lately. He also gifted me my very first magic books, starting with The Royal Road To Card Magic, the book that first piqued my interest in magic and totally changed my life. Albert Lasher, the leader of Assembly #69 of The Society of Young Magicians, was a wonderful mentor as well, always so kind and generous to me and our entire group of young magicians. He would teach us about magic and performance, encourage us, and find great opportunities for us to perform in the community. One of my favorite places where we'd perform was on KidZone TV, an interactive studio which would broadcast our shows to pediatric patients at Mount Sinai Hospital in New York. Albert arranged these performances, which was just one example of his ever-present kindness, dedication, and generosity over the years. When I was 12, I also met Tom and Janet Verner, who founded the organization Magicians Without Borders. From the moment we first met, I've been inspired by the work they do entertaining, educating, and empowering people all around the world and spreading hope and happiness through magic. I first had the opportunity to work with them when I was in high school and later connected Magicians Without Borders and the Yale Magic Society. We ended up doing a joint trip to Mumbai and rural Gujarat, India, to perform magic together. That was such a special experience.
To read more of our exclusive interview with Jen Kramer, click here.